Born to be the Boss
How Six Entrepreneurs Made It Big in Hong Kong.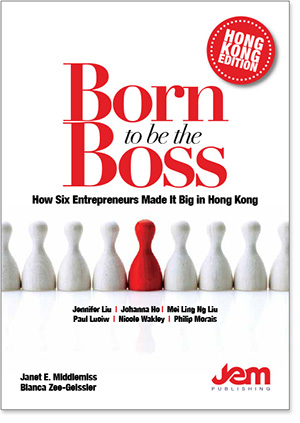 Authors: Janet E. Middlemiss, Bianca Zee-Geissler
Publisher: JEM Publishing.
ISBN:
Paperback: 978-988-14646-0-6.
eBook: 978-988-14646-1-3.
Series: Born to be the Boss
Are you thinking about becoming your own boss? Would you like insider information, tips and advice to help you start your own business?
For budding entrepreneurs looking for guidance and inspiration, this book shares the secrets of six extraordinary entrepreneurs from Hong Kong who transformed an enterprising idea into a million-dollar business.
Born to be the Boss takes you on their personal journeys, sharing the wisdom and knowledge of these admired business role models. In turn, you'll learn their lessons and tips for addressing common startup challenges and issues, plus how to build a highly profitable business from doing what you love.
"A wonderful book! Creativity and can-do spirit are what makes these businessmen and businesswomen successful. I have no reservation in recommending this book and will put it on my bookshelf!"
Dr. Allan Zeman, Chairman, Lan Kwai Fong Group
"Inspiring stories inspire people. Born to be the Boss tells us the rewarding experiences of how six 'ordinary' people got into entrepreneurship. I say ordinary because they could be any one of us or friends around us. We learn from the stories that with heart and hard work, we can live a rewarding life and create a career of our own. A great book you cannot miss!"
Professor Kevin Yuk-fai Au, Director, Centre for Entrepreneurship, The Chinese University of Hong Kong
"Entrepreneurs are vital to every society. Their creativity and determination are the essence of new ideas that improve our lives. The stories of success in Born to be the Boss are inspirational. I am sure that after reading this book you will want to go out and start your own company."
Jim Thompson, Chairman, Crown Worldwide Group
"A must-read for all entrepreneurs and wannabe entrepreneurs. This book gives a good overview of each entrepreneur featured and the inspirations for their businesses. It delves into the mind of each person and accurately tells their journey in an interesting story-like fashion, making easy reading and the book hard to put down."
Alexandra Yung, Chairwoman, The Entrepreneurs Club
"Born to be the Boss offers practical advice for anyone wanting to start a business. The book is essential reading for those considering entrepreneurship in Hong Kong or elsewhere in the world. Whether you are an early-stage entrepreneur or have been in business for years, it is one of the best investment you can make. The stories will motivate you to tread your own path to success!"
Simon Squibb, Founder and CEO, NEST
"Entrepreneurship is a much overused term and its true meaning often lost in the noise. In different locations and business sectors one requires particular conditions and traits to succeed as an entrepreneur. This book provides good insights into what it takes to succeed in the high pressure competitive business environment of an advanced economy like Hong Kong."
Chandran Nair, Founder and CEO, Global Institute for Tomorrow and Creator of The Other Hundred Entrepreneurs
Janet E. Middlemiss is an author and business expert who has lived the last twenty years in Hong Kong. Following a successful career in public relations, Janet has worked for startups since leaving corporate life in 2002. She is founder of the JEM Group, a social enterprise spearheading a unique movement to inspire and ignite talent across different disciplines from entrepreneurship and fashion to photography and the arts. The organisation's Born to be the Boss campaign aims to help people start and grow their own businesses by providing information, guidance and support.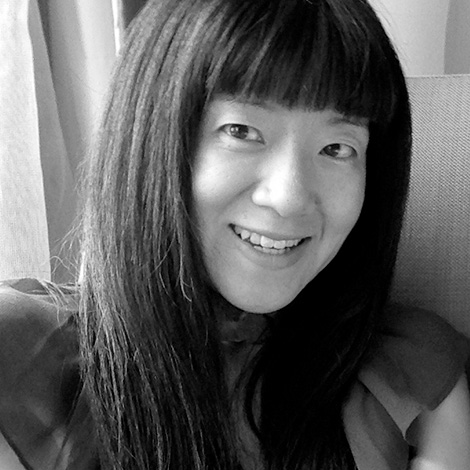 Bianca Zee-Geissler is a communication strategist who has lived and worked in Hong Kong for over seventeen years. She has wide experience in working on communication campaigns for global corporations as well as a range of startups. From there, Bianca moved into freelance writing for a variety of industries, producing content for a diverse array of clients from top global brands to startups. She joined the JEM Group to work with Janet on the Born to be the Boss campaign to help provide inspirational guidance to individuals choosing to embark on the entrepreneurial path. Bianca currently resides in Vancouver, Canada with her husband and two children.
"Born to be the Boss is a source of encouragement for individuals who are considering to start or are already starting a business, because it also explores the private struggles, pressures, anxieties and self-doubt that often arise when one starts a business. These are valuable lessons that address common startup concerns."